"Father Augustine Tolton, United States of America, diocese of Alton, Illinois" (From Slave to Priest: The Inspirational Story of Father Augustine Tolton, Caroline Hemesath, O.S.F., 159).
These words from the Cardinal sent chills down Father Augustin's spine. Throughout his seminary formation, Father Augustine believed he would be headed for the African Missions. He longed to serve and bring Christ to his brothers and sisters in African. However, the Lord had other plans. The weight of obedience was difficult for him to bare. None-the-less, Father Augustine accepted God's mission for him in faith and hope. His final weeks in Rome included a private audience with Pope Leo XIII, an official blessing and sending forth on the mission from Cardinal Simeoni, and some finagling in arranging his passage back to America. Father Augustine would finally arrive back on American soil on July 6, 1886.  
Upon his arrival in New York, Father Augustine stopped to visit the Franciscan Sisters who operated Saint Mary's hospital in Hoboken, New Jersey. These same sisters gave Father Augustine a warm send off to Rome several years before. He had promised, if it were God's will he be ordained a priest, he would return to offer Holy Mass in their chapel. The day came much more quickly than Father Augustine planned. On the morning of July 7, 1886, Father Augustine offered Mass for the Franciscan Community. It was noted in the sister's archives: 
The first Mass in the United States by the first African American priest and ex-slave was celebrated Wednesday, July 7, 1886, in the chapel of Saint Mary's Hospital of Hoboken (Hemesath, 162).
Father Augustine celebrated his first Solemn High Mass at the black parish of Saint Benedict the Moor Church on July 11 located at Bleeker Street and Downing in New York City. Saint Benedict the Moor was a Franciscan hermit, and patron of the African and black missions. The Church was standing room only. As Father Augustine processed down the aisle, all eyes of the black congregation were on Father Augustine flanked by two white priests. He was described as a tall handsome man who sang the Mass beautifully. His voice was said to fill the Church. He was welcomed with love and admiration and the people of his hometown waited anxiously to do the same upon his arrival in Quincy, Illinois. 
"We must make it nice for Gus" (Hemesath, 164). These were the words of Father McGirr to Sister Herlinde. Gus was a term of affection for Father Augustine by those who loved and supported him in his hometown. The preparations began a month in advance for Father Augustine's arrival. Father McGirr wanted to show to not only the people of Quincy but the whole United States that blacks could succeed. "Above all, he wanted to be known that such success is possible because the Church makes no distinction of race, color, or nationality" (ibid). A contingent of both black and white citizens, including Mrs. Tolton and Father's sister Anne were sent to welcome Father Augustine at the train station in Springfield, Illinois. As the train arrived in Quincy, a brass band playing, "Holy God we praise thy name," along with a large throng of people enthusiastically welcomed Father Augustine home. A carriage was arranged decked in flowers and drawn by four white horses to bring Father Augustine to Saint Peter's Church. The procession was led by school children, other priests, religious, and faithful. Father Augustine processed to the sanctuary. The Church was beyond capacity with souls seeking the blessing of the new priest. The throngs of people gathered eagerly to the communion rail to receive the first blessing of the newly ordained priest.
On July 18, 1886 Father Augustine offered his first Mass in Quincy, Illinois. People gathered at the Church of Saint Boniface, the parish founded with much help from the African American parish Saint Joseph Catholic Church. Saint Boniface was teaming with faithful who arrived at the Church hours before the Mass began. People came from near and far, Catholic and non-Catholic alike to see and hear the black priest. After the Mass Father Augustine addressed the congregation.
In his simple yet eloquent manner, he gave public thanks to God for his vocation to the priesthood. Then he expressed his gratitude to his many benefactors–people, sisters, priests. And finally, in a trembling voice with emotion as he looked at Mrs. Tolton, who was in the first pew, he said, "Above all, I want to thank my mother" (Hemesath, 166).
A week after his first Mass in Quincy, Father Augustine was officially installed as pastor of Saint Joseph Parish on July 25, 1886. Father John Janssen, the diocesan administrator, was the delegate of the bishop who presided over the installation. In the official rite of installation, the new pastor is escorted to the altar, the confessional, and the ambo. The places in the parish Church, which symbolize the spiritual works of the pastor: offering Mass, forgiving sins, and preaching the gospel.
Father Augustine's first year as pastor came with its ups and downs. Many of his parishioners were poverty stricken or downright destitute. He contended with the local Baptist and Calvinist churches whose revivals and music attracted many black Catholics in Quincy. Father Augustine reported to the Propaganda at the end of his first year that he only made six converts in his territory. However, he garnered support from the German and Irish communities in Quincy. It was a consolation to see blacks and whites kneeling together in prayer and worship in Mass. Although, many came for the novelty of seeing a black priest offer Mass, there were who came to hear Father Augustine's sermons and his reverence in celebrating the liturgy. Father Augustine was encouraged by the Cardinal prefect of the Propaganda to carry on in his mission. The Cardinal sympathized with the trials. He also trusted Father Augustine's dedication to the people of God despite the lack of the visible success. Father Augustine was also encouraged by the new bishop of Alton, Bishop James Ryan to persevere in his good work. Father Augustine at this time embarked on various speaking engagements around the country. He received solicitations to serve in the Chicago negro communities. But under obedience and love for his flock, he remained, for the time, in Quincy.
Bishop Ryan described Father Augustine as, "a good priest, capable and pious, and dedicated to the sacred ministry" (Hemesath, 176). Father Augustine continued to serve with love and zeal. The people raved about his singing and inspiring sermons. His preaching was simple yet profound, the presence of Christ was felt in his powerful words and refined delivery. His popularity flourished. In the crowded Church on Sunday mornings Father Augustine, before beginning his sermon, would raise both arms indicating to the children to come forward. They would sit on the floor near the sanctuary. The standing adults would then fill in the vacated seats. Father Augustine was loved by young and old, black and white, rich and poor. There's one memory of a little child of Saint Joseph School when seeing Father Augustine on the street saying to his mother, "See, there goes Jesus" (Hemesath, 180).
The honeymoon period, if there ever is one for a pastor, would soon come to an end. The scourge of racism and persecution would raise its ugly head again. Of all places, it came from a brother priest. The pastor of the neighboring parish, Saint Boniface. The spirit of the priest was one of racism and jealousy. The brother priest said white parishioners should not support a black Church. He believed a white person's money should go to white parishes, and went so far as to say, white people attending a black Church were not fulfilling their Sunday obligation. Soon his congregation dwindled, and people returned to their parishes. Father Augustine asked trusted friends the reasoning behind their move from Saint Joseph's; the initial response was to "keep the peace" but "there were those who admitted they could not endure the designation of "nigger lover" (Hemesath, 183).
The brother priest was Father John Weiss. He was a gifted administrator and rescued Saint Boniface Church from financial collapse. He would pressure Father Augustine. Individuals from the white community continued to contribute to Saint Joseph Parish, even as attendance was on a gradual decline. The situation further deteriorated when Father Augustine allowed the wedding of a wealthy socialite of Quincy to take place at Saint Joseph Church. Both Father Augustine and the couple had the permission of Father Weiss to officiate the wedding. But the stress continued for Father Augustine, who through these difficult times, tried to make peace with Father Weiss. However, Father Weiss wanted no part of it. There was one occasion when Father Augustine went to Father Weiss, the dean of the surrounding parishes, for advice. Father Weiss told Father Augustine, if you can't manage your own affairs, go elsewhere. "I may not go elsewhere. I am bound by the Propaganda Oath, which obliges me to go only where the church authorities send me." Father Weiss responded, "Well, then, I'll take up the matter with the bishop…Bishop Ryan can send you to some other diocese" (Hemesath, 186). Father Augustine was called to the bishop's office. He was reprimanded and warned to stop luring white parishioners to his parish. Father Weiss publicized the bishop's mandate and soon parishioners fell in line. This painful period for Father Augustine would result in his eventual move to the diocese of Chicago.
In obedience to Bishop Ryan, Father Augustine wrote to the Propaganda and Cardinal prefect to request permission to change missions. Father Augustine's first letter was dated July 12, 1889. "There is a certain German priest here who is jealous and contemptuous. He abused me in many ways, and he has told the bishop to send me out of this place. I will gladly leave here just to be away from this priest. I appealed to Bishop Ryan, and he also advises me to go elsewhere" (Hemesath, 188). The letter was received at Rome and was investigated for justice's sake. A vague letter was received from Bishop Ryan at the Propaganda, which was noted in the archives at the Urbana.  Father Augustine still had no response from Rome. Finally, after the third request he received a response on December 7, 1889. He was granted permission to take up mission in Chicago. In the end, Bishop Ryan while seeing Father Augustine as a holy priest, also felt the diocese of Alton was not the right fit and he must go elsewhere. He left Quincy without fanfare, only telling a few friends and his mother and sister of his move. He sent his few personal effects ahead and boarded the train with a small case giving people the impression he was leaving for a speaking engagement. He sat in the segregated section of the train with thoughts of "total failure" and rejection in his heart. The bishop told him, "To go elsewhere," and the cardinal prefect said to "go at once." As the train pulled from the station, he recalled the joyful memories of his last trip to Chicago en route to Rome. He compared them to the present bitter feelings. As train sped through small towns, he drove away heavy thoughts with the calming recitation of the Divine Office.
The black Catholic community had been waiting for Father Augustine in Chicago since 1887. A delegation from the community voiced their desire for the pastoral care of Father Augustine. The Archbishop Patrick Feehan knew the cross Father Augustine had endure in Quincy and worked tirelessly to bring Father Augustine to Chicago. At the time of Father Augustine's arrival in Chicago the black Catholic community's home of worship was the basement of Saint Mary's Church at Ninth and Wabash Streets. In preparing for his arrival in Chicago, Father Augustine arranged to live in a small apartment in the negro section of Chicago. He promised his mother and sister that they would soon join him.
Father Augustine's initial meeting with Bishop Feehan was one of his first acts in Chicago. He was greeted warmly and with graciousness from the prelate. He assured Father Augustine that the black Catholic community under the guidance and support of the "Saint Augustine Society" would soon move from Saint Mary's to their own Church. The Saint Augustine Society was an organization made of Chicago black Catholics organized by three Chicago priests. "The members prayed together, listened to religious instruction given by one of the fathers, and recruited new members" (Hemesath, 191). The society also raised funds to help serve the poor and bury the dead of their community while doing other works of mercy as well.
Father Augustine received a warm welcome to Chicago from the bishop and faithful. However, he was haunted by thoughts of failure. Had he failed his parishioners in Quincy? Had he failed Father Weiss, his dean? Had he failed the Propoganda by abandoning his mission in Quincy? He worried about the current place of worship, which the bishop told him was temporary. He was receiving pressure from the pastor of Saint Mary's who needed their space back. And he was still not able to receive his mother and sister in Chicago for lack of space in his sparse and poor apartment.
Despite a heavy heart, Father Augustine moved forward in his next mission to serve the black Catholic community in Chicago. His immediate task was to build a church for his congregation. The bishop had promised a piece of property on which to build a church. The minor detail lacking was of course the funds to build the church. This minor detail added pressure to Father Augustine. There was also the pressure from Father Rowles and the Saint Mary's parishioners who needed their space in the basement of the church. Although a good problem to have, the black community continued to grow, which added fuel to the fire. To alleviate the issue, Father Augustine proposed the idea of a storefront church next door to his apartment. The bishop agreed as a temporary solution but wanted Father Augustine to keep working toward a more suitable and dignified place for celebrating the divine mysteries. The storefront Church would be called "Saint Monica's Chapel." The location of the chapel was optimum because of its location in the middle of the black community in Chicago.
Father Augustine appointed Mr. Lincoln C. Valle to head up fundraising in other parts of the city of Chicago. The parish community had a piece of land and a handful of generous gifts for a solid foundation, but much work was still to be done. Father Augustine continued to make speaking engagements around the country to raise funds. He told a priest friend this was no longer possible with all the work he had to do at home. He also needed more time at home to minister to his flourishing flock. Since much of Father Augustine's community were working class or out right poor, significant amounts of the fundraising was given by white benefactors who had a heartfelt interest in helping the black Catholic community.
In December 1889, Father Augustine attended the Third Plenary Council in Washington, DC where he met Josephite Father Alfred B. Leeson. It was here Father Augustine also met Mother Katherine Drexel another future hero saint of the Church. Katherine Drexel was the daughter of a wealthy banking family in Philadelphia. She had recently founded the Sisters of the Blessed Sacrament. Her charism was to serve the missions in both black and Indian communities. Saint Katherine's Congregation operated schools and other services in the Church around the country. Father Augustine wrote to Mother Drexel three times to solicit support from her, without a response, although she would later finance a school for African-American children near Father Augustine's parish. Eventually, construction on the church began and went on for three years until funds stopped coming in. A temporary roof was installed, and worship began in the Saint Monica's Church.
The bills piled high on Father Augustine's desk, and while the church sat unfinished the congregation continued to grow. He continued to experience discrimination and pushback from area priests who didn't see the fruit in white people worshiping in black churches as they did at Saint Monica's. Father Augustine spent his "free" time in his rectory with his accordion and books. His devoted mother continued to encourage and support him through his trials. He had both spiritual and physical crosses to carry. However, his flock loved him as a loving father and his preaching and teachings were well received with love and joy.
The long hours of work and emotional fatigue finally caught up with Father Augustine on a hot morning on July 9, 1897. Father Augustine was returning from a three-day retreat for Chicago priests in the late morning. The temperature had been mounting for days before. Father Augustine stepped off the train at the 35th street station near the lake. As he walked toward his rectory the 105-degree heat was more than he could bear. Father Augustine collapsed on the street and was rushed to St. Mary's Hospital where he was treated by doctors and nurses and assisted by the prayers of the chaplain. Father Augustine succumbed to his sickness just before noon on July 9, 1897. The cause of death was heat stroke and uremia. Father Augustine was 43 years-old.
Father Augustine's parishioners were shocked and saddened at the death of their faithful shepherd. Father Augustine laid in state at Saint Monica's Church where thousands of people from all over the city came to pay their respects. The symbols of the priesthood, a chalice and stole laid on the casket of Father Tolton. The Solemn Funeral Mass was celebrated on July 12, 1897 with standing room only and crowds gathered around the Church building and down the block. The sanctuary was crowded with over 100 white priests in attendance. The Mass was offered by Vicar General Father John Gilliam. Father Augustine was buried in Quincy, Illinois. The funeral procession back to Quincy was four blocks long with his faithful mother at his side.
Pope Francis promulgated a Decree of Heroic Virtue on July 12, 2019, officially recognizing the holiness of Father Augustine's life, and giving him the title Venerable.
Venerable Augustine Tolton, pray for us.
Pax,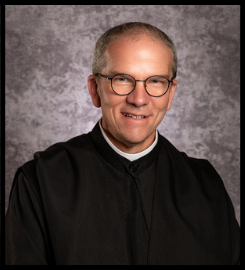 Fr. Aidan is a Benedictine monk and priest of the Abbey of Saint Mary and Saint Louis in Saint Louis, Missouri. Father Aidan grew up in Saint Louis with his mother and father and two sisters in a working class Irish Catholic family. He was ordained to the priesthood in 2015, on the Feast of the Holy Name of Mary, and currently serves as the Pastor of Saint Anselm Parish in the Archdiocese of Saint Louis. Fr. Aidan holds a BA in English Literature from Webster University in Saint Louis, and a MDiv from Saint John XXIII National Seminary in Massachusetts.
Father Aidan prays his contributions will help the faithful discover how the Benedictine virtues of obedience and humility, can be helpful in their particular vocation to seek the image of Christ through purity of heart in their lives.