We hear from the Gospel for Gaudete Sunday Year B; the account of John the Baptist declaring his mission of salvation. In the Gospel, John the Baptist is interrogated by the chief priests and Levites. They ask John the Baptist who he is. This is a question of the human condition. We ask this question of ourselves through the course of our lives. Who are we?
In chapter fourteen of New Seeds of Contemplation; Thomas Merton offers a reflection on the virtue of integrity. Integrity is the virtue of being honest and having strong moral principles. In this reflection, Merton exhorts us to simply be ourselves. In our natural and spiritual life, we're easily attracted to wanting to be like everyone else. We look to others for their gifts and talents. We find it hard to believe we can become holy simply with what God has given us. Many poets are not poets for the same reason that many religious men are not saints: they never succeed in being themselves (New Seeds, 98). Merton encourages us not to waste our time in trying be someone else while ignoring ourselves. Such an emphasis can bring a sense of pride and arrogance. Who are we to say God hasn't given us what will guide us to holiness?
In trying to be someone else, we become wrapped up in a frenzy. We go out of our way to buy an article of clothing. We go out of our way to receive this hairstyle. We go out of our way to find this pair of shoes. We do all this with anxiety and haste. We say in our hearts, if I could buy this product or have this talent. In this haste we lose ourselves. They want quick success and they are in such haste to get it that they cannot take time to be true to themselves. (New Seeds, 99). The irony is if we look deep within ourselves we could grow in leaps and bounds. God has given us what we need to be holy. We have what it takes within ourselves to be holy. The recognition of these gifts calls us to humility. In great saints you find that perfect humility and perfect integrity coincide (New Seeds, 99).
The virtues of integrity and humility go hand in hand. If we have integrity we'll have humility. We recognize by God's grace our integrity through our gifts. In recognizing our gifts and accepting them as a gift from God; we live humility. Humility is not a continual self-abasement. Rather, it is a recognition and acceptance of the gifts God has given us and use them to perfect His image within us. Humility is about accepting ourselves and the goodness God has given us. Humility consists in being precisely the person you actually are before God, and since no two people are alike, if you have the humility to be yourself you will not be like anyone else in the whole universe (New Seeds, 99).
We are unique. God created us in a particular way. He gave us life. This life of humility and integrity is something living deep within our hearts. Our integrity and humility are not something we recognize on the outside but something deep within our supernatural life.
We recall that we're made in God's image and likeness. We're created in His love and goodness. His love animates us and sustains us. Us, as we are! God created mankind in his image; in the image of God he created them; male and female he created them (Gen.1.27).
The saints do not get excited about the things that people eat and drink, wear on their bodies, or hang on the walls of their houses (New Seeds, 99). This manner of thinking goes against our modern culture. A culture where we're all trying to be someone else. Don't worry. You can even find this way of thinking behind the walls of the cloister. If we only had all those vocations, if we chanted like those other monks, if we had perfect monastic observance and ceremonial, then we'd be holy….Or in the world, if we had this much money, if we had that person's beauty, if we had her eyes and so on. Then we'd be perfect and could go on and start working towards holiness. It may sound simplistic and phony but God can make us saints as we are.
Perfection is not something you can acquire like a hat –by walking into a place and trying on several and walking out ten minutes later with one on your head that fits (New Seeds, 101). We can't just look to others for what we think is best for us. We can't just read a bunch of books on the spiritual life and surround ourselves with sacramentals expecting to settle into them for holiness. As simple as this sounds, there's no depth in it. We settle into a certain rhythm and stay there and become spiritually stagnant. We spiritually sit still and stifle the Holy Spirit. We suffocate the pulse of the Holy Spirit eager to cooperate with and overtake us. But as we progress in this way of life and in faith, we shall run on the path of God's commandments, our hearts overflowing with the inexpressible delight of love (Prologue of the Rule of St. Benedict 45). Merton says those who stay in this place,  become satisfied with their own brand of sanctity, and with the perfection they have woven for themselves out of their own imagination (New Seeds, 101). We have to grow and cultivate our God given gifts on our road to holiness. We have to undergo change in order to have life. This change is something which goes on within our own hearts. It's not, again, something we take from another and put on ourselves. We work with what God has given us; in a mysterious way even our sinfulness and crosses. This humbles us and reminds us of our need and dependence on God. We accept ourselves in humility holding on to our integrity becoming unrecognizable saints.  For example, Merton closes the chapter with the account of Benedict Joseph Labre (d.1783). Saint Benedict tried his vocation as a Trappist and Carthusian and failed at both. He died alone on a street in Rome. He's the only saint canonized and venerated by the whole Church, who has lived either as a Trappist or a Carthusian since the Middle Ages. 
Pax,
Photo Credit: https://mertonfellowshipireland.wordpress.com/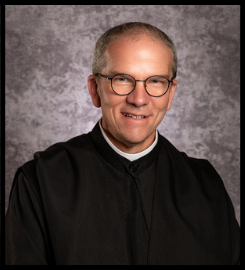 Fr. Aidan is a Benedictine monk and priest of the Abbey of Saint Mary and Saint Louis in Saint Louis, Missouri. Father Aidan grew up in Saint Louis with his mother and father and two sisters in a working class Irish Catholic family. He was ordained to the priesthood in 2015, on the Feast of the Holy Name of Mary, and currently serves as the Pastor of Saint Anselm Parish in the Archdiocese of Saint Louis. Fr. Aidan holds a BA in English Literature from Webster University in Saint Louis, and a MDiv from Saint John XXIII National Seminary in Massachusetts.
Father Aidan prays his contributions will help the faithful discover how the Benedictine virtues of obedience and humility, can be helpful in their particular vocation to seek the image of Christ through purity of heart in their lives.