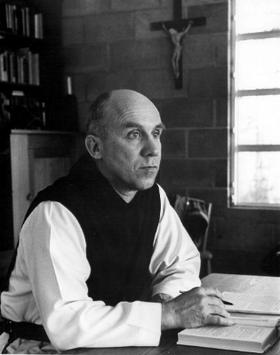 Father M. Louis, OCSO better known as Thomas Merton, was a monk of Our Lady of Gethsemani Abbey near Bardstown, Kentucky. He is one of the most popular and influential writers and mystics of the twentieth century. Thomas Merton was born in southern France in January of 1915. He attended schools in France, England, and the United States. He earned his undergraduate degree in English from Columbia University in 1938. In the same year he entered the Catholic Church following a powerful conversion experience. After discerning with the Franciscans, Merton eventually entered the Trappist monastery of Our Lady of Gethsemani in December of 1941. After his arrival, with his strong background in literature and writing, the Abbot encouraged him to write his autobiography. This autobiography would go on to be called, The Seven Storey Mountain, which has been republished several times over and translated into several languages.
Thomas Merton went on to write over 70 books over the course of his monastic life. The books ranged topically from prayer, civil rights, Vietnam, economic injustice, and the contemplative life. He had an interest in ecumenism and studied with great interest the eastern religions. 
One of Thomas Merton's classic works is New Seeds of Contemplation. During my discernment of a religious vocation, I read The Seven Storey Mountain, which my mother told me my grandmother read the year it was published in 1948. Another of Merton's classics is The Silent Life, I always loved the title. This work was helpful in my discernment to the monastic life as well. In it, Merton offers practical and spiritual reflections on the various ways of living the monastic life. Upon entering the monastery, I continued to work through Merton's writings. One of these was New Seeds of Contemplation. After twenty years in the monastic life, I found myself returning to this classic. As with many great works, this continues to have something to offer. The book is composed of thirty-nine short and valuable chapters on the contemplative life. I'm sure most of our readers are living in the world but fear not, contemplation can be lived by all of you as well. 
In the gospel of Saint Luke, Jesus speaks to His disciples about the kingdom of God. For behold, the kingdom of God is among you (Lk 17:21). Jesus is speaking of Himself but also to each of us. We who are striving to awaken our hearts to God's love and life in our hearts. Through the grace of our baptism and the sacraments, we see the world in a different way. We see the kingdom in the glories of creation, acts of charity, putting up with others annoyances, the daily interchanges with others throughout our days, weeks, and indeed years.
In the first chapter of New Seeds of Contemplation, Merton reflects on the inner life, starting with the question, What is contemplation? Initially, we may think contemplation is simply a reflection on the mysteries of the life of Christ. Or contemplation is the ability to focus on these mysteries and constantly keep them in our minds, thus connecting us to the Divine. However, this isn't contemplation in the true sense but more meditation. "Contemplation is the highest expression of man's intellectual and spiritual life" (New Seeds of Contemplation, 1).
"For those who are led by the Spirit of God are children of God. For you did not receive a spirit of slavery to fall back into fear, but you received a spirit of adoption, through which we cry, 'Abba, Father!'" (Rom 8:15).
The life of contemplation isn't praying all the time or trying to figure out what prayer is and how God works. Rather, contemplation is seeing God in all created reality. "[Contemplation] is an awakening, enlightenment and the amazing intuitive grasp by which love gains certitude of God's creative and dynamic intervention in our daily live" (New Seeds of Contemplation, 5)
We breath God in each time we take a breath. He is closer to us than we are to ourselves. He desires to be fully united to us. He desires us to be awakened by Him and to let us love Him. Our heavenly Father is working in all aspects of our lives; no matter how mundane or insignificant the action might be. When we brush our teeth in the morning, on our drive into work, in our private prayer and participation in the Eucharist, in our particular work. He desires us to be aware of Him in all we do and to see Him in the world around us. The air we breathe, the sunset, the sunrise, the stars, the leaves and trees; every aspect of our lives is moved by the power of God. This is the "creative and dynamic intervention" by which God makes Himself present in all these beautiful things. In short, contemplation is being awakened to this reality.
Let us pray for the grace to be united to this "creative and dynamic intervention" of God in our lives. May our hearts breathe in the voice of our heavenly Father to awaken us to His sustaining love of us and our neighbor.
Pax,
Feature image of Thomas Merton from: http://www.mertoncenter.org/Poetry/griffin.jpg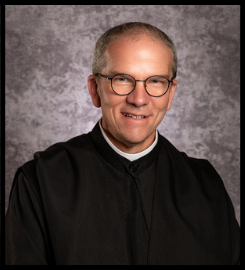 Fr. Aidan is a Benedictine monk and priest of the Abbey of Saint Mary and Saint Louis in Saint Louis, Missouri. Father Aidan grew up in Saint Louis with his mother and father and two sisters in a working class Irish Catholic family. He was ordained to the priesthood in 2015, on the Feast of the Holy Name of Mary, and currently serves as the Pastor of Saint Anselm Parish in the Archdiocese of Saint Louis. Fr. Aidan holds a BA in English Literature from Webster University in Saint Louis, and a MDiv from Saint John XXIII National Seminary in Massachusetts.
Father Aidan prays his contributions will help the faithful discover how the Benedictine virtues of obedience and humility, can be helpful in their particular vocation to seek the image of Christ through purity of heart in their lives.