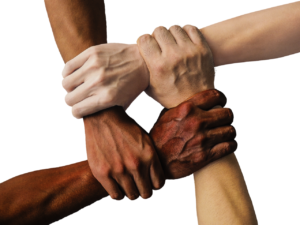 Twenty-First Sunday in Ordinary Time: 8-27-17
Peace be with You,
Last weekend, we were given the opportunity to see the master Teacher interact with two very distinct personality types which can, in a very broad way, divide the human family into two types; those who are meek and humble of heart and those who succumb to that most primordial type of sin, pride.  Over the course of our discussion it became very obvious that those in the latter group (Matt. 15:1-9), succumbing through pride to a self-referential worldview, were incapable of exercising the docility necessary to allow the sole Instructor of Hearts to penetrate their hardness of heart, missing an invaluable opportunity for healing growth in the process.  To this group of self-pleasers, the Canaanite woman of great faith served as foil, reflecting the humility of our Lord (Matt. 15:21-28), thereby allowing the Light of Truth to penetrate her heart and break forth for the world to see that it is only by faith working through love that the human person can serve as an agent of healing for the world.  This weekend, after having witnessed these very diverse exchanges, the Lord now turns to interrogate us, posing a question whose impact knows no limit.
The readings for this week have a traditional importance in terms of the life of the Church, as they have, for some time, been seen to focus upon the person of Peter and his confession of Jesus as "the Christ, the Son of the living God" (Matt. 16:16), a confession which wins for Peter great praise from our Lord, who responds by saying: "Blessed are you, Simon Bar-Jona!  For flesh and blood has not revealed this to you, but my Father who is in heaven.  And I tell you, you are Peter, and on this rock I will build my Church, and the gates of Hades shall not prevail against it.  I will give you the keys of the kingdom of heaven, and whatever you bind on earth shall be bound in heaven, and whatever you loose on earth shall be loosed in heaven" (Matt. 17-19).  This exchange has become the locus classicus for defending the Church's understanding of papal primacy.  A large part of our discussion today will focus on this exchange with the aim of (and I want to be clear about this) complexifying the discussion, not denying the usual claims which get made, as I think the Church at large (regardless of denomination) can benefit from just such an approach, perhaps providing the basis of fruitful ecumenical dialogue when it comes to this subject.  Said differently, I would like to introduce some nuance to the regular societal dialogues which surround this topic precisely by looking at the text itself, which has just as much to tell us about who we are as who Peter was and is.
By way of beginning, however, as has become our practice, we will first broaden our contextual scope which will give us a clearer view of what is taking place in this most important of encounters.  It is interesting to note, that in many ways, Matthew is here repeating the narrational pattern which he had previously used in chapters 14 and 15.  There, we see the feeding of the five thousand (Matt. 14:13-21); manifestations of Jesus' divinity, first as he walks upon the water and calms the storm (Matt. 14:22-33) and then as he performs many healings (Matt. 14:36); an interaction with dissenters (Matt. 15:1-9); Jesus teaching the disciples as a specific group (Matt. 15:10-20); and finally, the declaration of the Canaanite woman's faith (Matt. 15:21-28).  The broader context for our passage today then, includes the following elements: Jesus performs many healings (Matt. 15:29-31); the feeding of the four thousand (Matt. 15:32-38); an interaction with dissenters (Matt. 16:1-4); Jesus teaching the disciples as a specific group (Matt. 16:5-12); Peter's confession of faith (Matt. 16:13-20).  If we compare the two sets we see that they contain nearly the same textual elements, the only difference being that the latter set does not include what I have called "manifestations of Jesus' divinity."  However, the reason that it has not here been listed as a separate item is not due to its absence, but rather to its relocation, for in the latter set the manifestations of Jesus' divinity are contained within the exchange between our Lord and Peter, as we shall see.
Recognizing that the inspired author is trying to create an interpretive pattern for us to follow then, we will once again focus on the disparity between the exchange Jesus has with his dissenters and that between himself and those who, in humility, recognize him for who he really is, for it is in this disparity which we are able to see the divine pedagogical method with respect to the human family.  In doing so, we are able to be brief, making two interrelated points.  Once again, as in the previous textual cycle, it is the Pharisees and Sadducees who come to confront our Lord (Matt. 16:1; cf. Matt. 15:1).  The movement of these two groups (which in reality collapse into one, finding "harmony" in their aggression) itself has something to teach us.  Notice please that in both cases these groups pose a "question" to Jesus (Matt. 16:1; cf. Matt. 15:2).  However, that they phrase their accusations in the form of a question is merely a thin rhetorical veil draped over their calloused hearts, for their intent is not to learn from the master Teacher but instead to set themselves over and against him in a misguided attempt to make themselves if not his superior, at the very least his equal, as we see in the ensuing exchange (Matt. 16:2-4; cf. 15:3-9).  In contrast, notice once again the movement of the Canaanite woman who comes with a genuine plea to the Lord (Matt. 15:22), and in patient humility waits to receive the gift she knows he is able to give her (Matt. 15:27).
Though not readily apparent in the text itself, this is precisely the movement of Peter; he who had been with our Lord from the beginning of his ministry, immediately leaving his nets (Matt. 4:18-22) to heed the call of the Shepherd and follow him wherever he may go (cf. John 10:27).  It is precisely his patience and docility which enables him to receive the revelation of the Father (Matt. 16:17) that the one before him, the one whom he accompanied every single day, was "the Christ, the Son of the living God" (Matt. 16:16), invested with "the words of eternal life," (John 6:68), and capable of bestowing them upon all those who are possessed of the most precious gift of humility.  What else does this contrast tell us if not that the Truth is not ours to grasp as an apple from a tree (Genesis 3:6), but instead must be humbly and meekly received as the gift of bread upon a table (Matt. 26:26) as the Canaanite woman knew so well (Matt. 15:27)?  And because the Word which speaks (cf. John 1:1-2), illuminating the human family as to who both they are and who he is (cf. John 1:9), is the very One through whom all things have been created and in whom all things hold together (Colossians 1:17; cf. Romans 11:36), we may conclude that the very same lesson applies to life itself, for Life and Truth are synonymous with he who is the Way to eternal life (cf. John 14:6).
This attitude of humility and meekness is displayed by the disciples as our Lord sets about instructing them.  St. John Chrysostom brings to the fore these characteristics as he highlights the divine pedagogical method utilized by the Instructor of Hearts, telling us that Our Lord did not first ask the disciples their own opinion but that of the people at large "in order that when they had told the people's opinion, and then were asked 'But whom say ye that I am' by the manner of His inquiry they might be led up to a sublime notion, ad not fall into the same low view as the multitude" (Homily 54 on Matthew, 1).  Thus, as we saw last weekend in the encounter with the Canaanite woman, our Lord knows the intricate depths of the human heart before him, and patiently guides it in order that it might receive the gift of faith.  This is the divine pedagogical method which has been at work throughout all of human history, and its only desire is that through our learning our hearts may be expanded to receive the complete joy that is the life of Divine Wisdom (cf. John 10:10).  The ensuing conversation with Peter makes clear that this life of full joy is a simultaneous knowing of God and the self, i.e. that our identities are made known to us only to the degree that we know God.  For only after his confession of Jesus as "the Christ, the Son of the living God" does Peter hear of his most sublime calling, "you are Peter, and on this rock I will build my Church…I will give you the keys of the kingdom of heaven, and whatever you bind on earth shall be bound in heaven, and whatever you loose on earth shall be loosed in heaven" (Matt. 16:18-19).  More sweet words have never sounded in a human ear, which we are able to realize once we get past the humanly imposed contested connotation of them; hear our Loving God say to Peter what he had assured the prophets of before him, hear him say "I know exactly you are, for even 'before I formed you in your mother's womb I knew you,' (Jeremiah 1:5), it is my voice which called you first into being and which has called from the stillness of every night since (1 Samuel 3), desiring to share with you the great plans I have for you, plans to make you my instrument of hope and love to the world" (cf. Jeremiah 29:11).  And if there is any question that it is the very Word of God calling Peter to such work, consider that his promise is replete with only that which God can carry out; for he promises to give him the keys to the kingdom of heaven, and to confer upon him the power to forgive sins (cf. St. John Chrysostom, Homily 54 on Matthew, 3)!  And what else is the power to forgive sins than the power to bring healing to the deep divisions hidden within the human heart, the division so frightfully apparent amongst the members of the human family whose source lies in the division between the human family and its loving Creator.
It is at this point that I wish to complexify the discussion which typically surrounds this passage of sacred scripture, but I wish to do so not upon my reading of the text, but based upon the reading of the text of two great champions of the Church, representing both East and West; one who has already been introduced, St. John Chrysostom, and the other St. Augustine of Hippo.  The two have very similar readings of this text.  The former tells us that our Lord's words, "you are Peter, and upon this rock will I build my Church," suggests to us that our Lord intends to build his Church upon the faith of Peter's confession (Homily 45 on Matthew, 3); and the latter echoing the very same (cf. St. Augustine of Hippo, Sermon 295).  However, the latter takes us one step forward and tells us that the rock upon whom Christ will build his Church is none other than himself (Tractate 124 on the Gospel of John, 5).  Lest we be dismayed at this interpretation of the text (or perhaps overjoyed depending on our denominational proclivities), we ought to note that Augustine here is interpreting the text in an intra-scriptural manner, i.e. he is interpreting this text in light of other scriptural passages which refer to Christ as a rock.  Quite often this appears as "cornerstone," as in "the very stone which the builders rejected has become the cornerstone" (Matt. 21:42; cf. Psalm 118:22-23; Acts 4:11; 1 Peter 2:7), or as a "stumbling block," as in "we preach Christ crucified, a stumbling block to Jews and folly to Gentiles…" (1 Corinthians 1:23; cf. 1 Peter 2:8).  That Christ is the rock who alone can provide a firm foundation is also suggested to us himself elsewhere, when at the end of the Sermon on the Mount he tells us that "Every one who hears these words of mine and does them will be like a wise man who built his house upon the rock…"(Matt. 7:24).  In addition, this in no way denies Peter's primacy of place among the Apostles, which is quite evident in Scripture, being constantly named first among the disciples (cf. Matt. 4:18; 10:2; Mark 3:16; Luke 6:14) and constantly functioning as their spokesmen (e.g. John 6:68 and Matt. 16:16).  What's more, this does not even deny that he still functions as a rock of the Church, which his very name implies (cf. N.B. Peter in Latin is Petrus meaning rock and in Greek is Kephas both meaning rock) and that his function is carried out in harmony with all of the Apostles (Revelation 21:14).  What it does suggest is that Peter can only be rock in a derivative sense; i.e. his identity is derived from his relationship with Christ the same way all of our identities are.  Said differently, every human person only finds his or her truest self in harmonious love with God, such that the most sure way of coming to know the purpose with which we have been created is first to answer the question Jesus poses to us today, "Who do you say that I am?"(Matt. 16:15).
What we end up with is an idea of the Church expressed in the New Testament; i.e. that the Church is the body of Christ of which we are all members (1 Corinthians 12:12), functioning as living stones (1 Peter 2:1-10) which make up God's dwelling place on earth, "the household of God, built upon the foundation of the apostles and prophets, Christ Jesus himself being the cornerstone, in whom the whole structure is joined together and grows into a holy temple in the Lord" (Ephesians 2:19-21).  The point is, that just as we see in Genesis 1 that within the Cosmos there is order in equality and diversity in harmony, so too in the Church (1 Corinthians 12:12-30).
Okay, so what finally does this all mean, why was it so important that we have this discussion?  We find the importance of our discussion in the promises Christ makes to Peter; i.e. that the care for his Body on earth and within time, the Church, has been entrusted to Peter in communion with the Apostles and to us in communion with them for a specific mission; to forgive sin (Matt. 16:19).  As St. Augustine writes: "I make bold to say, we too have these keys.  And what am I to say?  that it is only we who bind, only we who loose?  No, you also bind, you also loose.  Anybody, who's bound, you see, is barred from your society; and when he's barred from your society, he's bound by you; and when he's reconciled he's loosed by you, because you too plead with God for him" (Sermon 229N, 2).  I want to be clear here as to what I am trying to say following Augustine.  Do we forgive sin?  Absolutely, sin is division, it is a falling short of the love God calls us to, and therefore, anytime we are offended and we forgive those who offend us, we forgive sin with the love of God which lives in and through us.  It is this love, and this love alone which will one day heal the divided human family, a healing we are all called to participate in.  That said, can we forgive the sins committed against God?  No.  This is left to his ordained ministers, who acting in the person of Christ and with his authority as we see in our passage today (Matt. 16:19), bestow his forgiveness upon those who humbly plead for it.  Taken together, this action of loving forgiveness is the function of the Body of Christ, to heal the divisions between the human family and God and amongst the human family itself.
My friends, this is the message of the Gospel, that the Son of God has become the Son of Man in order to once again, bring the human family into loving harmony with our God.  As members of his Body, the Church, we are all tasked with the work of bringing the healing and salvific power of God's love to the world, through a life which lives the twofold love of God and neighbor (Matt. 22:36-40); through forgiving those who have sinned against us (Matt. 6:9-13); and most perfectly, by loving even those who detest the very self-sacrificing lives we strive to live, our enemies, and praying for their conversion to the love of God (Matt 5:44).  Look around, this is a work which no nation is capable of though they promise it to us time and again, for this unity is not born under a flag, but in the loving embrace of the Body of Christ, the Church, our Loving God's means of restoring unity to our world.  As we look out into the world and see a broken and divided place, a place filled with those who are seemingly impenetrably hostile to those around them; let us look evil straight in its empty and lifeless eye and with every action of love declare to it: "You are nothing; the pain which you inflict upon us will someday come to an end; for our king has come, and is here to stay; it is his love living in us that will soon destroy you; and once again make us whole, make us one, loving and harmonious family, sharing his eternal happiness, just as he intended in the beginning, for the Word who spoke first will not fail to have the last Word."
Word of God, Jesus Christ, through you the Father spoke and brought all things into being, creating a harmoniously ordered universe, bound together in love by the power of the Holy Spirit.  In our infantile ignorance, we brought an end to this harmony, creating space for discord where there was once only unity; look upon us now we pray, so battered by division, so broken by hatred and see that we are only little ones, longing for the loving presence of a Father to make of us one family again.  Give our shaky legs stability to walk in the Light of your Word, so that these feet, these hands, these lips, can run to and embrace your image in all we meet this day, and bestow upon each a kiss of peace, born of the Love that is the Holy Spirit, with whom you and the Father live in eternal joy, one God, forever and ever. Amen.
Your servant in Christ,