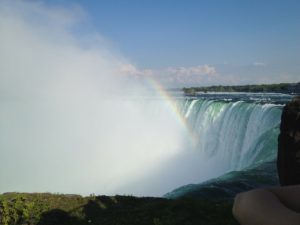 Twelfth Sunday in Ordinary Time: 6-25-17
Peace be with You,
This Sunday we return to that cycle of readings which belong to the liturgical season of Ordinary Time.  However, as we have said in the past, it should in no way be thought that the liturgical seasons which span the time between Christmas and Lent and then again between Easter and Advent as somehow being mundane in nature as compared to those more, in a manner of speaking, intense seasons of devotion.  We can liken the difference between the Season of Easter which has recently ended and the Ordinary Season we now celebrate as the changing seasons within one enduring relationship.  For instance, in any relationship there will be moments of peak intensity, where one's love for the other is put to the test; e.g. moments of illness, sadness, disagreement, or where one's love reaches such levels that loving the other seems a matter of nature, coming to us as readily as the breath we draw into our nostrils.  We might liken these moments of a more intense nature with those seasons of Lent and Easter respectively.  Still, there will be other spans of time where the relationship passes through those more placid periods, where the love for the other has not changed in nature, but has calmed in intensity.  And these periods we may liken to the liturgical season of Ordinary Time.  We may take the analogy one step further in order to call attention to the reader the importance of this not so ordinary time.
Any married couple will readily call to mind and agree with what has been said above regarding the varying levels of intensity; moreover, married couples will also tell you that it is those more placid and calm periods of the relationship which can, if one is not careful, lead to the most dysfunction.  In fact, some couples will enter these calmer seasons and pass through only to find at the end that they have no idea who the person they are waking up next to is anymore.  This in turn quite often leads to a breakdown in the relationship, the two have found other interests, and, given the societal climate, they choose to go their separate ways.  The same can be said of our relationship with our God.  We may not pursue our relationship with the same intensity during Ordinary Time by incorporating special devotions or periods of fasting as the Church calls us to during Lent for example; however, our relationship must continue to grow, for if it does not, it will begin to fade and eventually die.  Fortunately, unlike human relationships, God's love for us never changes, and while we might move away from him, or have our love for him distracted, his focus is continually on us, as our readings for today demonstrate.  This reality demands that no period of our earthly pilgrimage be thought of as "ordinary."
Our first reading comes from the book of the prophet Jeremiah and it offers us a perfect example of this ever-changing dynamic in our relationship with God.  Jeremiah was active prior to and during the Babylonian exile of the Southern Kingdom of Judah (ca. 587 BC).  Called as a youth to proclaim the message of God (cf. Jeremiah 1:6-7), Jeremiah's work as a prophet brought him much personal persecution and heartache.  For this reason the book which bears his name is littered with lamentations, giving its author the nickname of "the weeping prophet."
In order to appreciate the selection taken from Jeremiah's words for today a bit on the surrounding context is beneficial.  Textually, the passage is situated in the first half of the work, wherein Jeremiah's oracles of judgment against Judah are located.  Just prior to the passage we are considering, Jeremiah has been released from prison, where he had been placed at the order of Pashhur, the priest in charge of the temple police, for prophesying the impending doom of the nation (cf. Jer. 20:1).  After having been beaten and imprisoned overnight, Jeremiah was released (cf. Jer. 20:2-3).  And although in the face of his enemy he seems undeterred (immediately prophesying personal doom to Pashhur upon his release), Jeremiah is not so confident when alone with his most intimate companion, God.  Our first reading for today immediately follows, and is a portion of one of Jeremiah's lamentations.  Unfortunately, the reading has been cut considerably, such that the fluctuating dynamics of the prophet's relationship with God is almost undetectable.  Thus, we shall broaden the text for examination.
This particular lamentation of Jeremiah's begins with verse seven of chapter twenty where the prophet says, "O Lord, you have enticed me, and I was enticed; you have overpowered me, and you have prevailed.  I have become a laughingstock all day long; everyone mocks me."  Notice the doublets in the first part of the verse, emphasizing its first two statements.  The first of the two describes an attraction towards God experienced by Jeremiah, the second describing the attraction as being magnetic in nature, so strong that the prophet cannot avoid or escape its force.  The prophet here is likely alluding to his being called by God, an event recorded in the opening chapter of the book.  There we find Jeremiah a young man, reluctant to do the work God calls him to, and we are not too bold in assuming his fear comes from the reaction he knows the people will have to the message he is being sent to proclaim.  And as we see in the latter half of the verse, his fears have been confirmed, for it is his message of "Violence and destruction!" which has been rejected, and made of him, the Word's messenger, an object of derision.
The following verse (9), is one of the most beautiful of the passage, and, to me, one of the most intriguing of all scripture.  For there we are given a glimpse into the psychological experience of the prophet.  Because of the difficulty of proclaiming God's word, and the maltreatment he has received in doing so, Jeremiah resolves to quit this work and save himself the trouble.  But instead, something mysteriously beautiful happens, listen: "If I say, 'I will not mention him, or speak any more in his name,' then within me there is something like a burning fire shut up in my bones; I am weary holding it in, and I cannot."  Here is a precious glimpse into the heart of one who loves God, who has been so confirmed in his trust of the One he loves, that nothing, not even his own will, can overcome his very own desire to do the bidding of the One he loves.  Here we witness the experience described by St. Francis de Sales in his Introduction to the Devout Life where he writes, "those who love God can never stop thinking about him, longing for him, aspiring to him, and speaking about him.  If it were possible, they would engrave the holy, sacred name of Jesus on the breasts of all mankind" (2.13).  Of course, Jeremiah had no historical knowledge of the revelation of the Son of God Incarnate, Jesus Christ, yet the very same Word whom we encounter in the Scriptures and under the appearances of bread and wine, spoke to and then through Jeremiah, and he desires to do the same with you and me.
In turning to our gospel reading for today, we discover the key to making this happen, and the key is…fear.  Yes, that's right fear, but it must be the right kind of fear and it must have a very specific object.  Listen as Jesus tells us, "do not fear those who kill the body but cannot kill the soul; rather fear him who can destroy both soul and body in hell" (Matthew 10:28).  We must backtrack in order to discover that those whom we ought not fear are those of the same ilk who persecuted the prophet Jeremiah, i.e. those who refuse to believe the Word of God.  In a beautiful connection to our first reading, Jesus had previously told his disciples that when he sends them out "as sheep in the midst of wolves" (Matt 10:16), 'it is not they who will speak,' "but the Spirit of your Father speaking through you" (Matt. 10:20).  This Spirit is the very same fire of Love which the prophet could not contain within him, but had to make present to the air in order that His Word might set the world ablaze (cf. Jer. 20:9).  However, while Jesus tells us we need not fear this group of detractors, there is one whom he tells us we ought to fear (cf. Matt. 10:28).  And it seems we might read this two ways.  First, the one who can kill the soul could be Satan, the father of lies, who attempts to seduce us into turning away from God and thus willfully choose our own demise.  However, there is a second possibility here which finds precedence in the tradition, and that is that this one might in fact be God himself, who ultimately will judge the eternal resting place of each and every one of us, for some opening the gate to eternal life, and for others the bowels of a life eternally deprived of his presence and thus of ultimate death (cf. Matt 25:31-46).
In fact, we find multiple instances of being exhorted to fear God in the book of Jeremiah.  For example, in chapter five verse twenty-two, we hear God say through the prophet, "Should you not fear me…should you not tremble before me?  I made the sandy shore the sea's limit, which by eternal decree it may not overstep."  Notice please the connection with our gospel reading.  In both instances fear is being summoned via the recognition that there is only One who has ultimate sovereignty over all of creation, caring for his handiwork by eternal decree lest it fall into complete disarray.  Here it is the sea, a natural force more powerful than any human weapon, and in our gospel it is the birds of the air (cf. Matt. 10:29 & 31).  To be sure, the words of the prophet are much more fear inspiring in what we might call the traditional sense than those spoken by our Lord today.  However, in order to capture the right sense of fear, we might look another place in the work of Jeremiah.  In the latter half of the book, when destruction is certain, the prophet shifts from proclamations of destruction to those of comfort, and here we find exactly what we are looking for.  In chapter thirty-two God tells of how he will gather the people who had been scattered, bringing them back to their homeland, adding "they shall be my people, and I will be their God.  I will give them one heart and one way, that they may fear me always, for their own good and the good of their children after them.  With them I will make an everlasting covenant, never to cease doing good to them; I will put fear of me in their hearts so that they never turn away from me.  I will take delight in doing good to them; I will plant them firmly in this land, with all my heart and soul" (Jer. 32:38-42).
This fear sounds quite different than that spoken of in the previous passage.  Recall that the prophet now speaks to a people broken and bruised, beaten the same way the prophet had been only to the thousandth degree.  And they had been told exactly why disaster had befallen them, they had turned away from God.  This fear then is one of overwhelming awe, of speechless wonder that One who had been so thoroughly despised and rejected could love without fail, could be so completely generous as to make that which was so utterly broken so radiantly new!  This is the fear of the Lord which the Holy Spirit inspires within us, a fear which is described as being a delight to those to whom it is given (cf. Is. 11:2).
My friends, today we hear the Love of God Incarnate echo the very same message spoken through the prophet Jeremiah centuries before!  It is a message of tender care, a care which far surpasses that of the most loving mother.  Listen!  "even the hairs of your head are all numbered" (Matt. 10:30)!  There are simply no words to describe this kind of care, but there is a portrait, an Icon, if you will, that so eloquently speaks of the Love which concerns itself with us that any attempt to describe it in words must ultimately surrender to sighs of wonder; this Icon I speak of, written on the very fabric of creation, is the Cross.  Today, the Savior himself summons within us a proper fear of the Lord, an overwhelming sense of awe at the love which he came to make visible with every step, in order that we might learn this rhythm of love, and harmoniously join in the song, confessing him 'before all men,' with firm trust that he 'will acknowledge us before his Father' (Matt. 10:32). Having the opportunity to participate in such a magnum opus makes everyday far from ordinary!
Lord, Jesus Christ, you did not despise to be known as a member of the human race, but instead you relished the thought of re-creating that which you once created, and so deigned to be seen, heard and touched by we, your wounded family; so that, caught up in the Divine embrace, your descending might become our ascending.  Help us this day to sing a new song of wonder, forever rejoicing in the love you reveal, where you live in unity with the Father and the Holy Spirit, one God, forever and ever.  Amen.
Your servant in Christ,